Community + Climate + Action
Here in the Midwest, 12 partner organizations and 11 of our collaborators are working together to change the dynamics around climate change education and action.

Connect is managed by the Chicago Botanic Garden's Jennifer Schwarz Ballard, Ph.D., along with Jessamine Finch, a doctoral student in the Garden's Plant Biology and Conservation graduate program in collaboration with Northwestern University, and cultural anthropologist Jennifer Hirsch, Ph.D.

Connect inspires and coordinates climate change education initiatives across three states (EPA Region V). The goal of Connect is to increase knowledge, leadership, and engagement in climate action among diverse communities by building on local assets and community life.

In simple language, Connect communicates strong messages about climate change through positive opportunities for action.

The initiative is especially focused on working with those who are not yet engaged in climate action—for these important constituencies are often underrepresented in the mainstream environmental movement.

The approach is place-based and asset-based, building on existing social structures and community leadership. When local impact is the focus, community members are better equipped to get involved and to share positive, active messages with their families, friends, and colleagues. Community organizations' leaders are often influential figures in the communities they serve and can send a strong public message that climate change is an issue relevant to local lives.

By relating climate change to local conditions, working through community groups and networks, and highlighting the individual and global benefits of community-based action, Connect can engage with audiences that have not been directly engaged in, or even aware of, climate issues.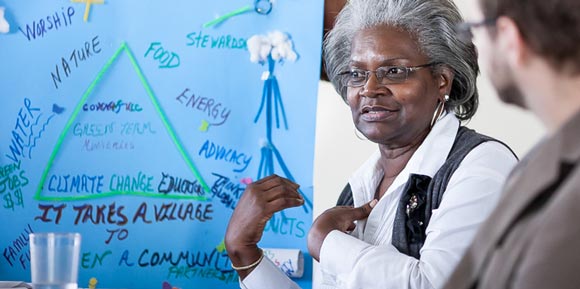 Photo: Joe Mazza